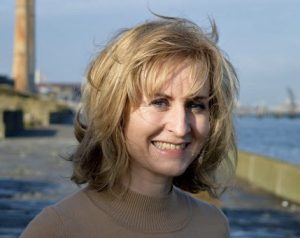 Hilary is an award-winning documentary maker, journalist and communications consultant with two New York Festivals awards, the Gold Hugo from the Chicago International Film Festival, Best Documentary awards from the Celtic Film Festival and the Santa Monica Film Festival as well as several other international prizes to her name. She also recently received two Literature Awards from The Arts Council of Ireland. In addition to programme making, Hilary is a print journalist with magazine editorial experience. She interviews high profile guests each week in her 'This Much I Know' column in the Irish Examiner. She has had weekly lifestyle, interview and opinion columns in several Irish national newspapers and was editor of 'Beyond The Hall Door' interiors magazine.
Hilary's recent television and radio work has been mainly in the area of documentaries and arts programming as a series producer and director. She has experience working in both the Irish State broadcaster Radio Telefís Éireann (RTE) and the independent sector. Her projects have been funded by a variety of organisations including The Irish Film Board (IFB) and the Broadcasting Authority of Ireland (BAI). Hilary's work has been broadcast on television and radio in Europe, been in competition at many festivals worldwide and has been screened at the Exhibition of Visual Art in Limerick (EVA).
Hilary's work includes award-winning projects such as 'Imagining Ulysses' (RTE) a feature-length film documentary about James Joyce's masterpiece; '10 Things to Know About' (RTE) a six part series on developments in Irish science and technology; 'Cherish All The Children' ((Broadcasting Authority of Ireland for Today FM) a radio documentary about a group of remarkable women who refused to give their children up for adoption and became Ireland's 'first' single parents; 'Hearing Silence' (Irish Film Board) a moving film about professional musician Elizabeth Petcu who is losing her hearing and 'Voice at the Edge' (RTE) an intimate portrait about the unique spiritual singer Nóirín Ní Riain.
Other projects run the gamut from current affairs to lifestyle and entertainment. Producer credits include the hit interiors show 'Beyond the Hall Door' (RTE) and 'Ryan Confidential' (RTE) a television series of celebrity profiles.
Hilary has previously worked as a television presenter and continues to work as a voice over artist. Reporting credits include the arts preview show 'Opening Nights' (UTV/ RTE); the live lunchtime magazine show '12-2-1' (RTE) and the live chat show 'Gerry Ryan Tonight' (RTE).
Hilary is also an experienced communications consultant. She held the post of Director of Communications for four years at One Family, one of Ireland's leading voluntary organisations, during which time she significantly raised its profile and created effective fundraising initiatives. She now designs media campaigns for clients in the arts and cultural sector.
Hilary recently began writing fiction and has been shortlisted for a number of prestigious awards including The McLaverty, Fish and New Writer prizes as well as being a winner of the Irish Times/ Powers short story competition, The Well writing competition and the Circle of Missé New Novel Award. Her short fiction has already appeared in several anthologies.
Hilary graduated from Trinity College Dublin with an honours law degree (LL.B, Bachelor in Laws) and qualified as a barrister from The Kings Inns Dublin (BL, Barrister-at-Law).
Hilary is a Board Member of The Irish Writer's Centre.
She is a regular guest lecturer on Production Skills at the Schools of Media and Creative Media, Dublin Institute of Technology (DIT) and Dundalk Institute of Technology (DKIT).
She is a Member of The Association of Independent Radio Producers in Ireland (AIRPI) and of The National Union of Journalists (NUJ).